Archive for September, 2014
New release notes of Microseven software and M7B15/M7D12 firmware
1. M7B15 and M7B12 firmware updated v1.0.3 on 09/10/2014
MYM7-v1.0.3-20140910.pkg
Bug fixed: FTP snapshots uploading solo name or multiple name options and without creating FTP folder on FTP site. Updated authetic method on hardware chip set.
Updating process may take you about 2 minutes, while you are doing it.
Download from:
Firmware upgrade for M7B15 and M7D12 v1.0.3 NEW
Here are snapshots to show you where FTP is setup for these features. You can do it for webcam still image, construction, wuderground weather station, earthcam and etc. on your own purpose for scheduling upload the image shots from camera. The image resolution is about 1920×760 pixels, and is about approx. 2.0 Mega pixels.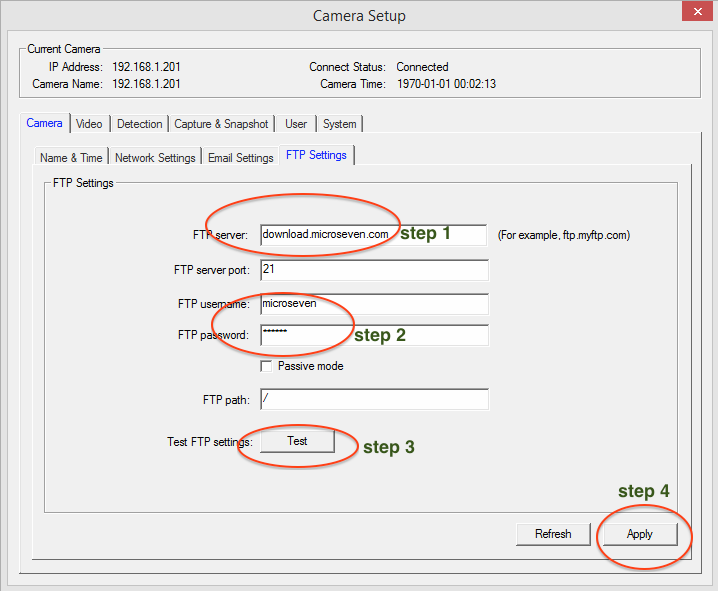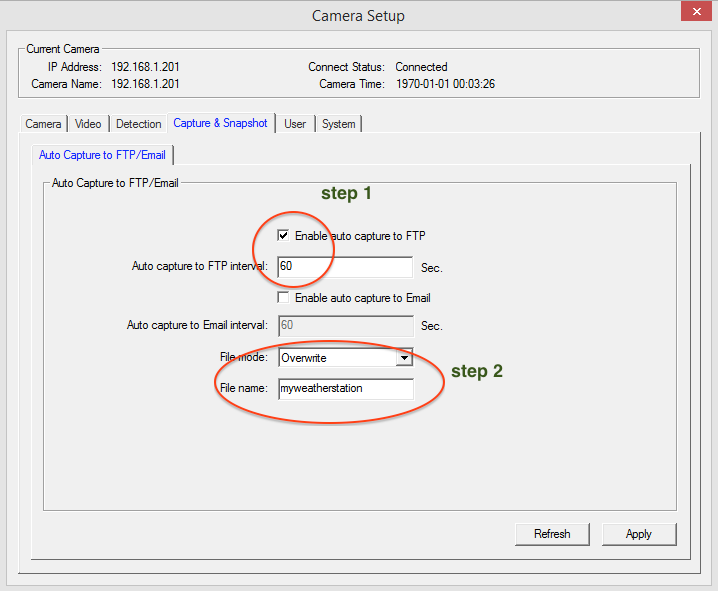 2. Microseven software updated to v4.0.2.4 on 09/10/2014
Software MicrosevenSetup4.0.2.4.exe released
Bug Fixed: Cam Locator duplicated camera IP addresses display in the list.
Download from:
Microseven for Windows Full v4.0.2.4 (released on 09/10/2014) NEW
3. Microseven software updated to v4.0.2.6 on 10/13/2014
Bug fixed: Dynamic domain name works for microseven software on M7B15 and M7D12
Download from:
Microseven for Windows Full v4.0.2.6 (released on 10/13/2014) NEW
With so much monitoring taking place, and with surveillance systems gaining more online functionality every year, it's natural that securing these systems would become… complicated. And that many many are secured incorrectly or not at all. Because so many cameras and surveillance systems are completely open, it's possible for anyone with Internet access to watch literally thousands of cameras online using only Google and a kindergartener's understanding of the 'Net. With a little time and patience, almost any given system, from a set of residential cameras to those used by your local police, can be accessed, viewed, and even reset if not properly secured. Of course, if you can do this, it means that anyone can do it.
After a huge number of nude celebrity photos were leaked over the weekend, you should take a moment to ensure the photos that you have on your phone are safe.
A bug in Apple's iCloud, the company's cloud system that automatically backs up some phone data, may have played a part in the hack. Apple is investigating.
There are a few steps you can take to protect your own photos, whether they're racy selfies or just shots of family and friends you don't want hackers accessing. Here are the three most important things you can do, and how to do them:
1. Take your photos off of iCloud
If the photos you take on your iPhone are automatically uploading to iCloud, they could be at risk. Here's how to stop that from happening.