How to initially set up Microseven IP cameras
1. Download Microseven with Cam Locator from Download on the microseven.com site.
2. Open the Cam Locator.
Windows icon

and Mac 'Cam Locator…' button

Click on 'Search' to find a camera.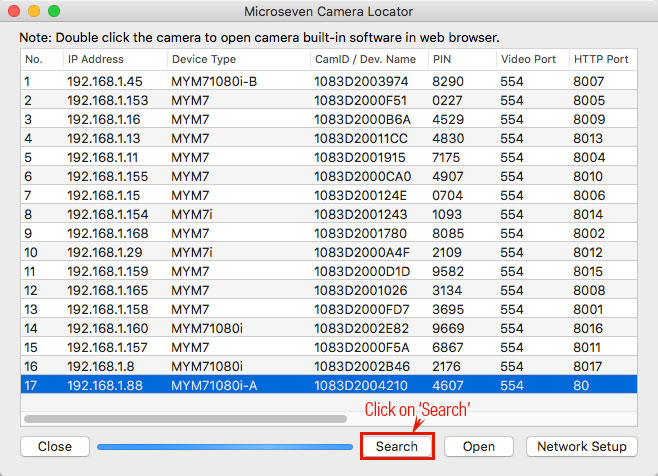 Highlight it and double click on it (or click on 'Open') to bring up a browser window.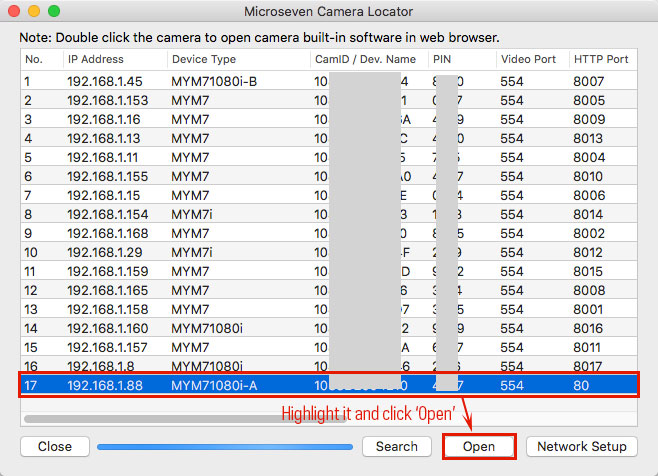 In an alternative way, you can open a browser on the desktop, enter a camera IP address you find from the Cam Locator and manually enter the URL to open the camera system window.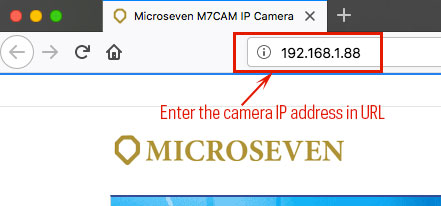 3. It has a popup window request for a login username and password.
The default Username: admin
The default Password: password

4. After it passes log in window, you have two options to go, 'LIVE VIEW' and 'Camera Setup'.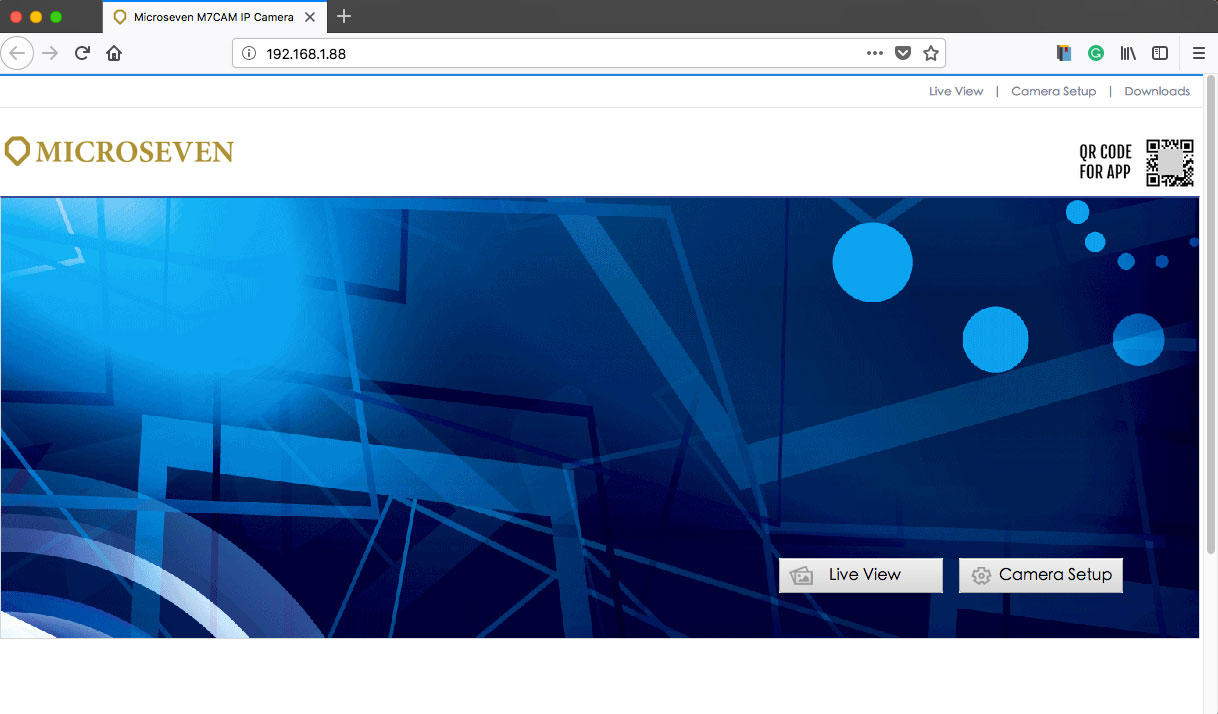 5. If the camera is a wireless camera, you will start to set up WiFi access now.
Click on 'Camera Setup'.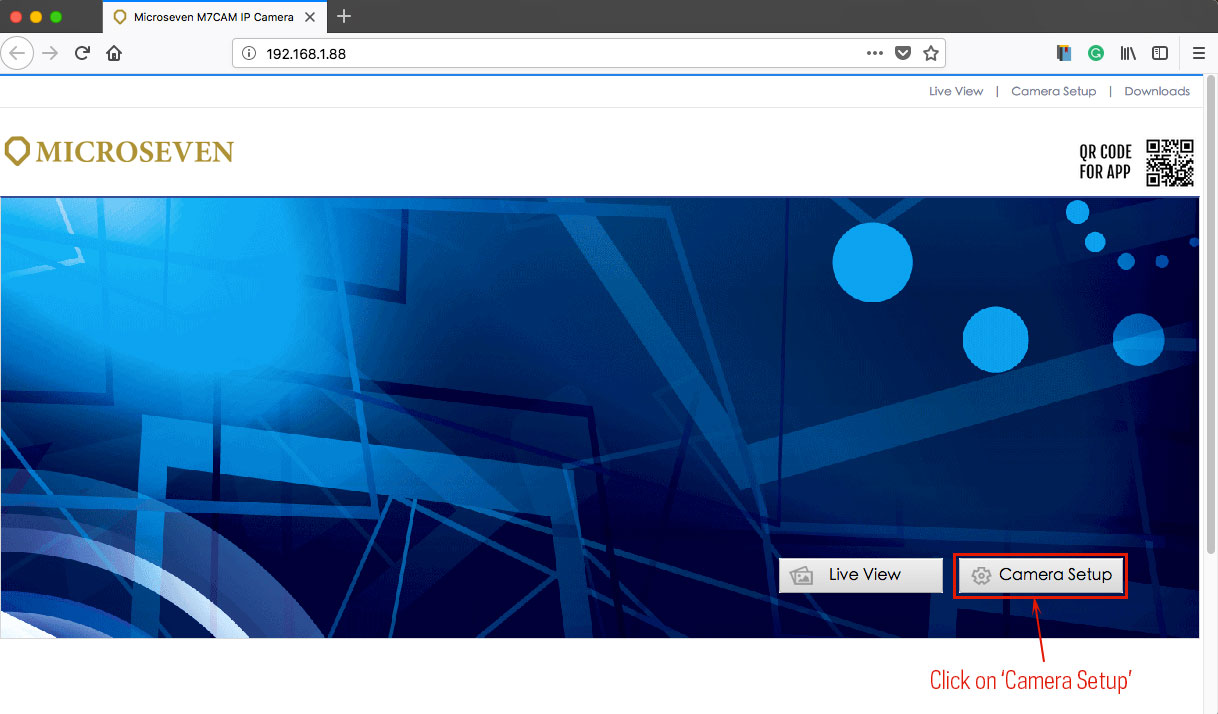 Go to the menu 'CAMERA' and select 'Wireless Settings' on the left side menu. Click on 'Search' to find the WiFi router to connect from the camera.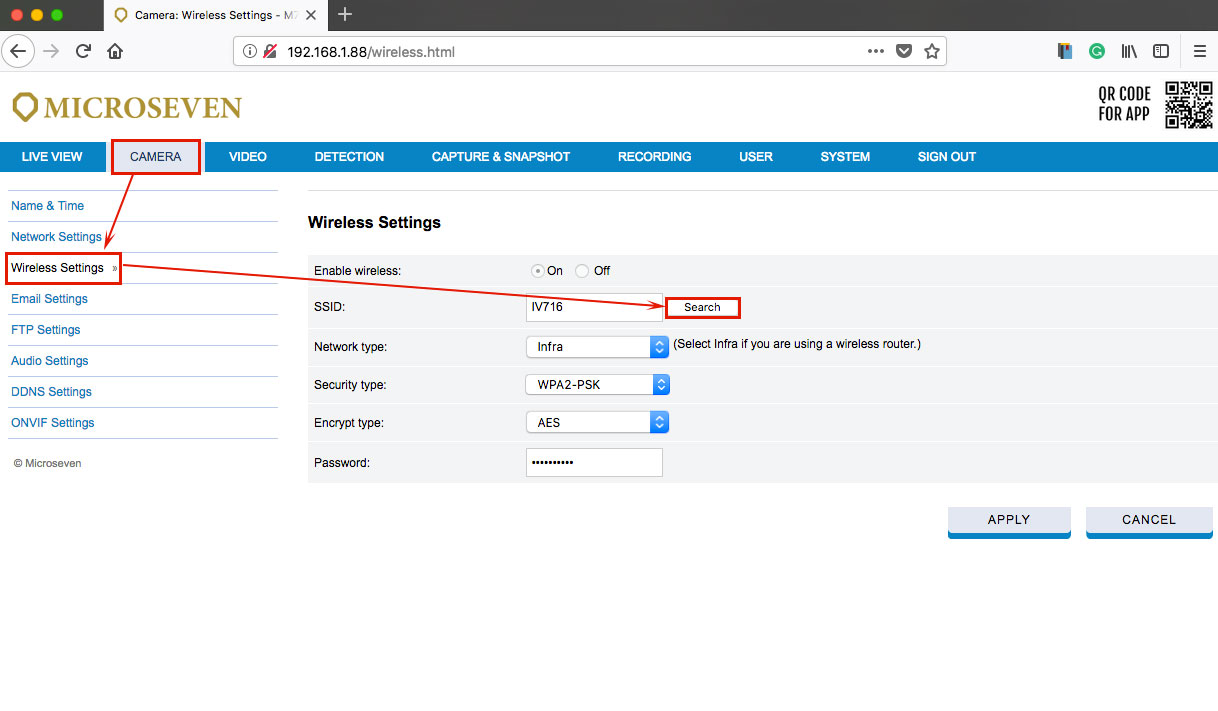 6. The WiFi search window pops up. Find your WiFi router name and select it via click 'Join' button.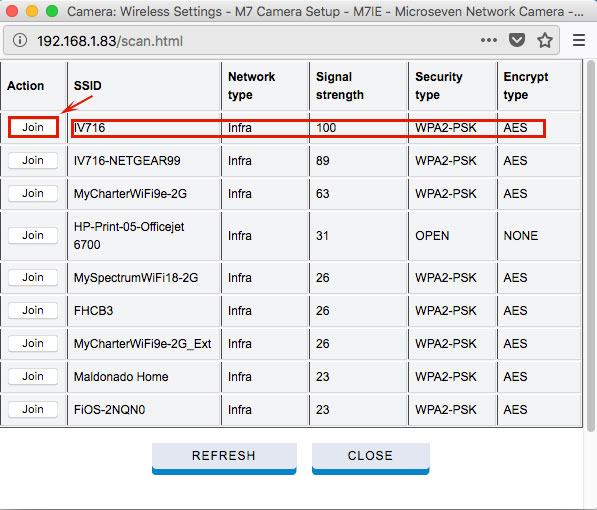 Next, enter the WiFi router password. Click on 'Test' after entering the password. Click 'APPLY' when you see the 'Test passed' message.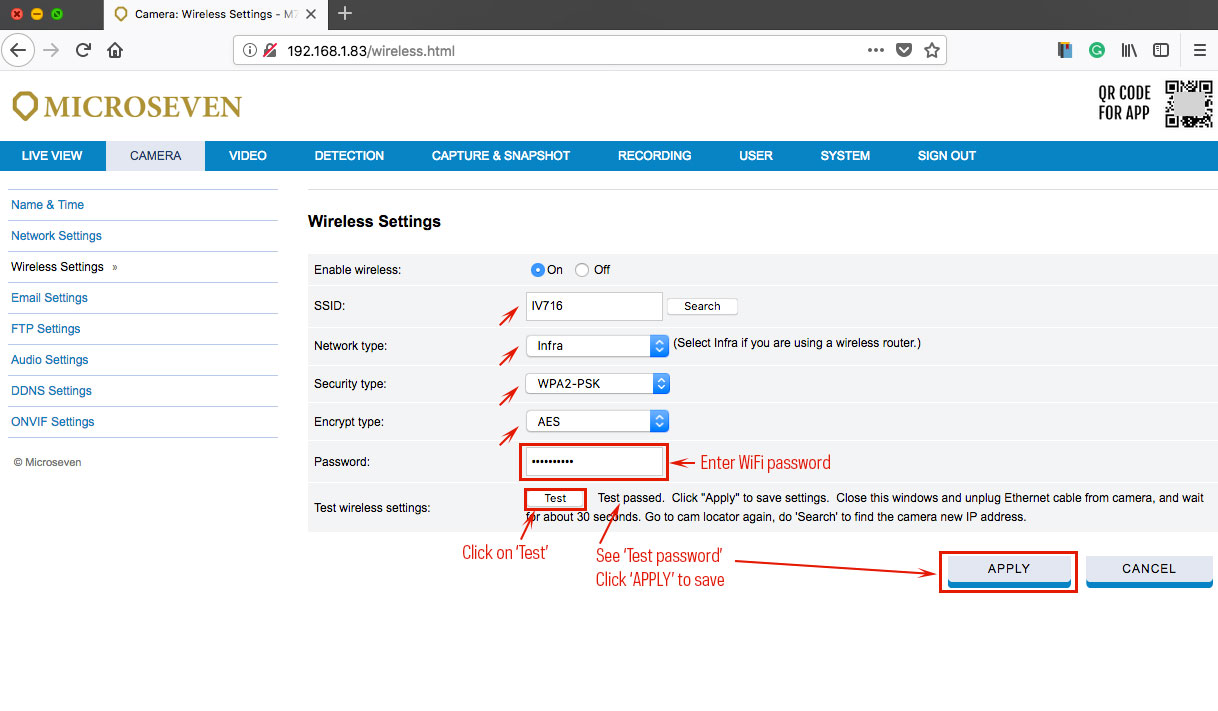 7. To finish the wireless settings, unplug the Ethernet cable from the camera or from the router. Do search the camera again in the camera (Repeat step2 to Step4.)
8. If you want the camera to be placed permanently, go to Network Settings
To set, IP type -> Static IP address, DNS type as DNS, in DNS two fields
use 8.8.8.8 and 8.8.4.4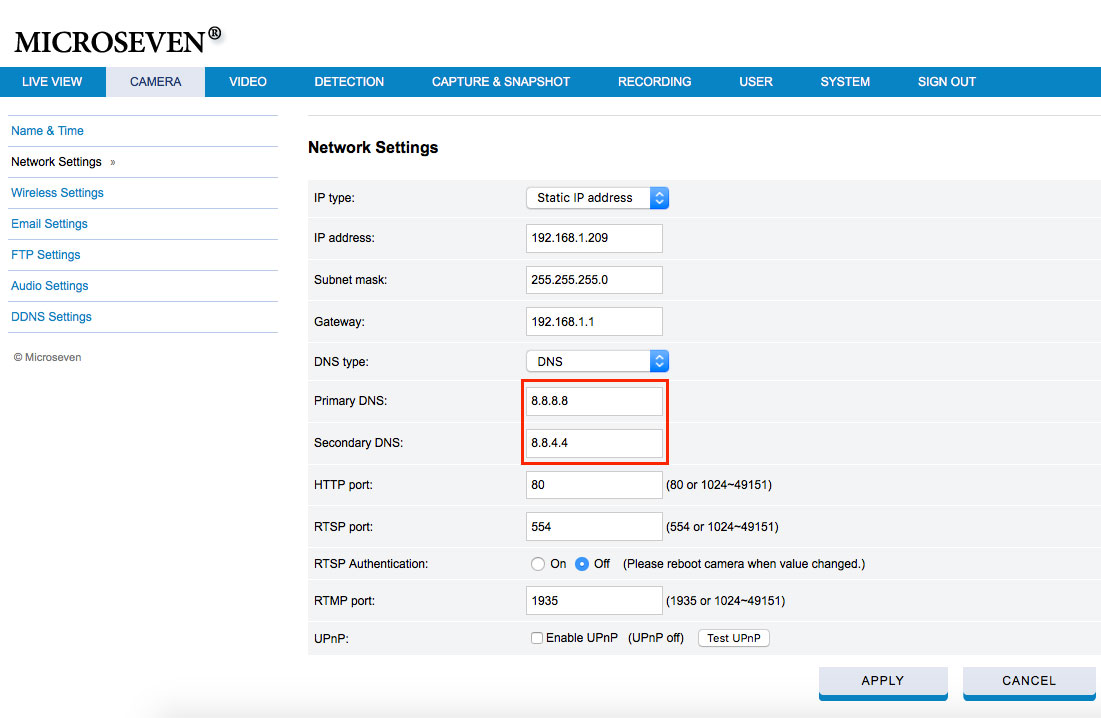 9. Click 'APPLY' to save all settings.
Unplug the Ethernet cable from a camera, close all browser windows opened. Wait for about 60 seconds… Go to the cam locator again to 'Search' and find the camera.
10. If you have found the camera, your wireless setup is completed.
11. To setup Motion recording, you only need to go to the DETECTION menu, set motion triggering zone, and activate motion. ( Red zone must be created to activate the motion)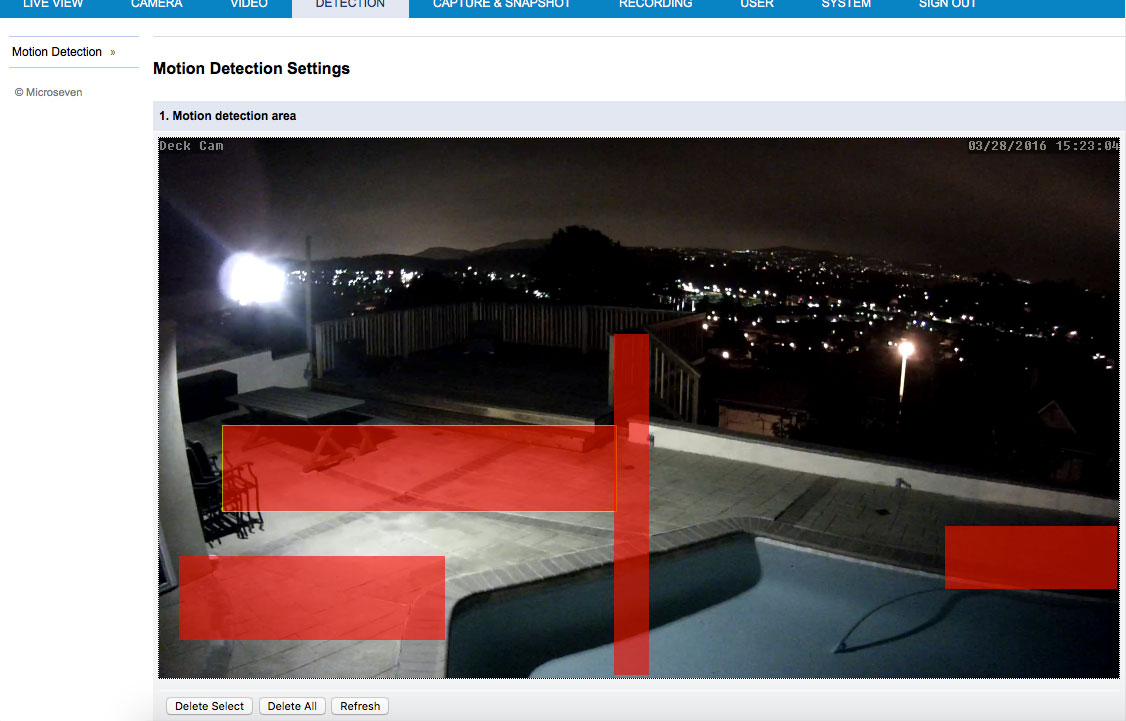 12. To set up email setting after motion-triggered:
firmware must be after v1.4.0
Email Settings
SMTP server name: mail.mym7.com
Server port: 587
Encrypt type: SMMARTTLS
Authentication: On
Username: noreply@mym7.com
Password: (gray out)
Sender: noreply@mym7.com
Sender name: No-Reply
Fields you have to full out:
Photo size, Send to, Subject, Message.
You have three email addresses to send motion alerts to.
Recommend testing your Gmail. Other email address may need to verify senders and prevent spams.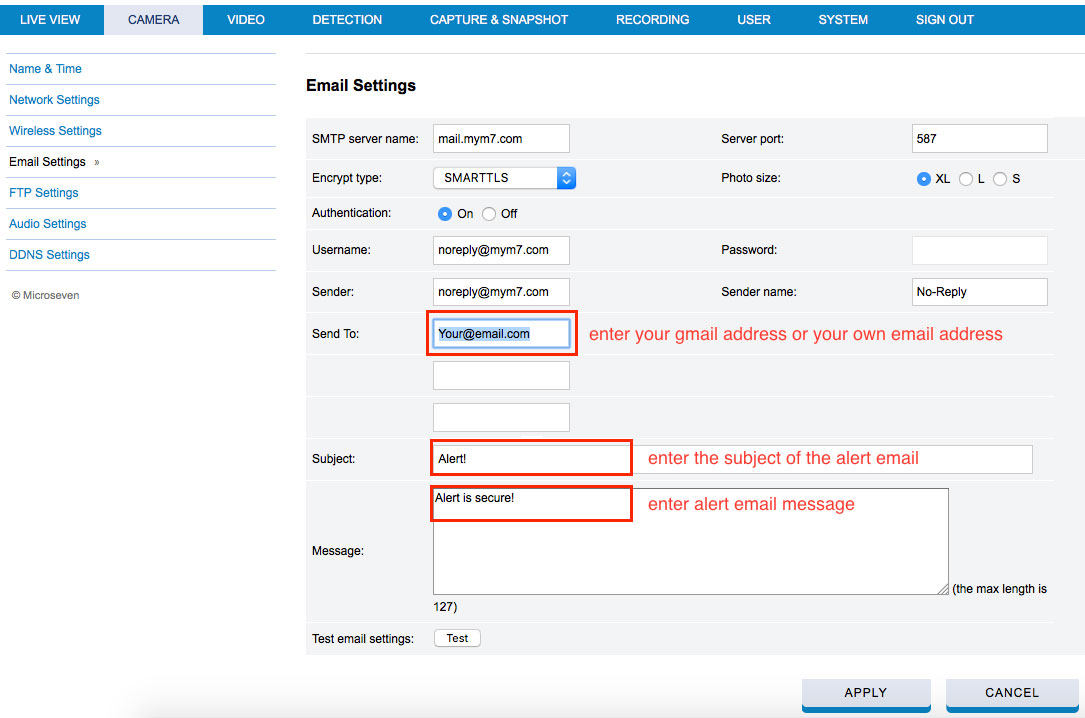 13. To change users' credentials, you can go to the USER menu to make it changed.

14. To upgrade firmware, go to the SYSTEM menu, and Firmware Upgrade. You have to go to the microseven.com download page, to find and download the latest firmware matches your camera firmware. Go to menu SYSTEM, then Firmware Upgrade at the left side menu, click on 'Browse' to select the newest firmware on your computer, then click on 'UPGRADE' to upgrade firmware. Please be patient and wait for 60 seconds to complete the upgrading. All your settings may be set back to factory default, then you need to re-enter some fields from default values, such as the IP address of the camera.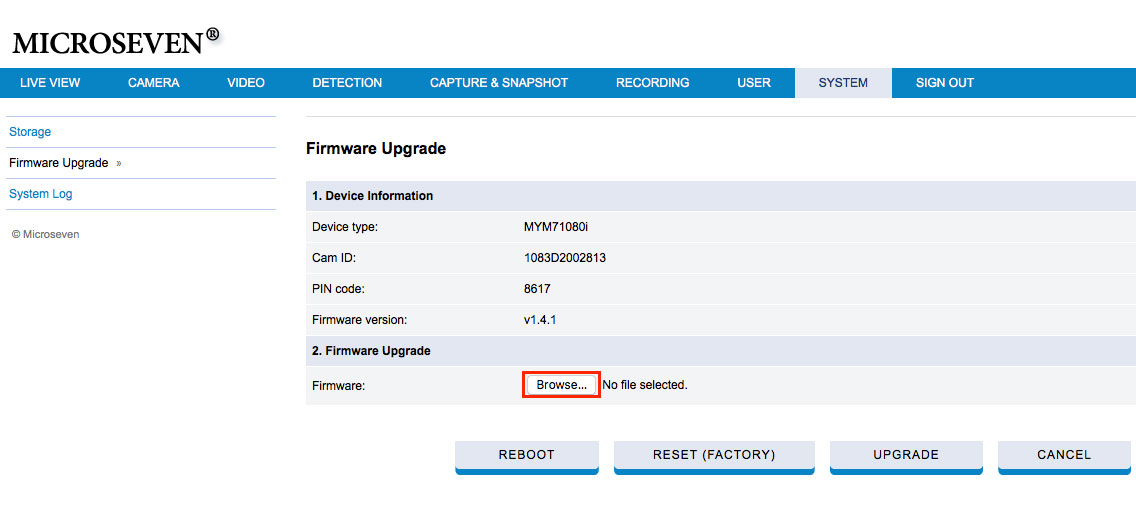 15. If you record video on a microSD card, you do not have to use menu RECORDING, and menu CAPTURE & SNAPSHOT.
16. If you install the camera behind windows or doors glass, you can have an option to turn the IR off/on. Go to the VIDEO menu and Infrared Light Setup page. There are Infrared Light Switch Settings if you select Turn on, which means IR light will be auto on in the night vision. If you decide to turn the IR light off, then you have choices for black and white mode or color mode in the night vision.

17. Watermark on name and timestamp on the video.
Go to the CAMERA menu and Name & Time, select #3, Timestamp and Camera name on and off. If you select it is on, there is the watermark on the video for a name and its timestamp.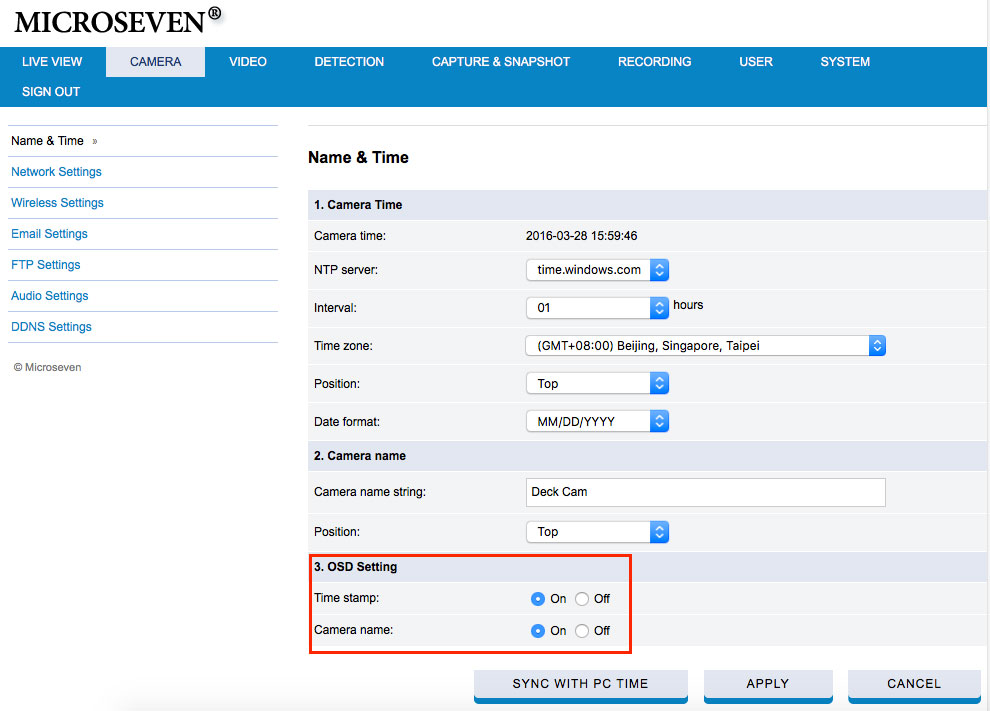 15. You can FTP motion video to your hosting server where it has FTP protocol on. FTP refers to file transfer protocol. You can type FTP location and its credential, where the hostname of the server or host server IP address is an FTP login username and password and file saved path. Then test it out. If it is passed, then click on 'APPLY' to save the settings.
16. Audio settings for M7B77 and M7B57. Go to the Audio setting in the CAMERA menu. Select "On" if you want audio is on for one of three or all. The default is on for all streams. The audio input type is 'Line in'. Default audio input volume: 10 and audio output volume: 95. They are adjustable.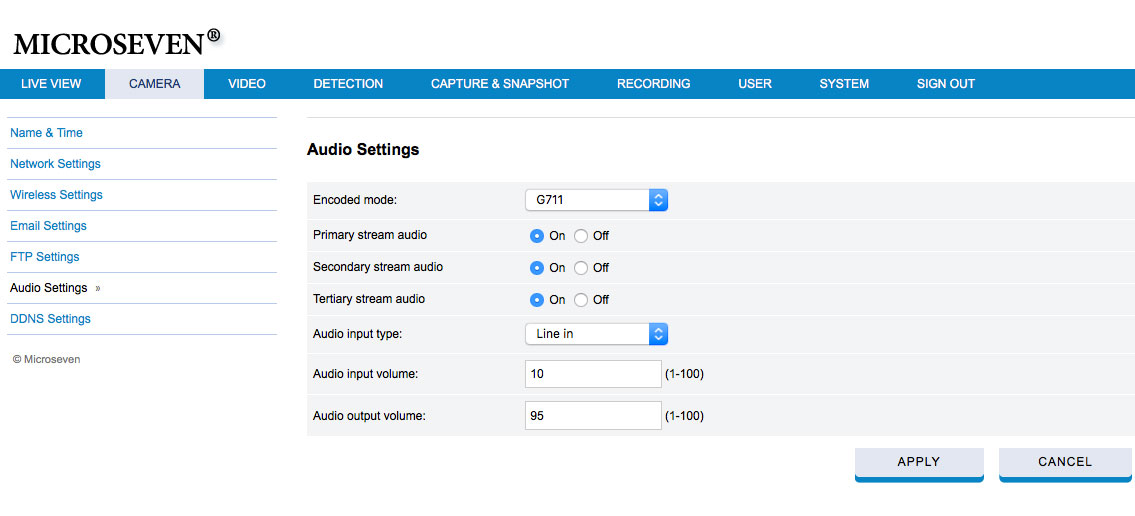 17. To play recorded video while motion is triggered, please go to Microseven software to set up, using database-driven on record query, click here to find more for windows and mac os.