Update 9/13/2023
Utilize microseven camera motion alerts to receive email notifications in Gmail.
Check out the latest updates from Gmail to stay in the loop!

There are 3 steps for using an SMTP server in the email settings configuration via Gmail. The following instruction and attached snapshot show you how to do it.
Sending emails from a camera, you have to set an SMTP to a camera; you can use the Gmail SMTP. It can be your primary Gmail account or a secondary Gmail account. Some people create a secondary Gmail account to send an email from the camera ONLY for the alert email when the camera motion is triggered.
Step1, Go to the "CAMERA" menu, then go to the side-menu "Email Settings". Fill out the following fields in the form.
SMTP server name: smtp.gmail.com
Server port: 465
Encryption type: SSL
Photo size: It is selectable for the alert snapshot image size.
Authentication: On
Username: It must be the Gmail valid address.
Password: It must be a Gmail password. (Updated on 9/13/2023 a Google-generated password for third-party apps.)
Sender: Must be the Gmail valid address.
Sender: Enter your name.
Send To: This must be an email address you want to send an alert event email to. The maximum addresses are three email addresses where you fill out.
Subject: Enter the email subject.
Message: Enter the message.
Click on "APPLY" to save the settings. Then, click on "Test". If you have "Test failed. (Incorrect username or password". Go to Step2. To fix the problem.
Step2. You have to set the Gmail security settings to "Allow less secure apps: ON"
On the Gmail page, click on the Gmail menu.
Click on Account.
Click on the "Security", then select "Turn on access to Less secure app access". Then save the settings. You can create a secondary Gmail account for just sending the email from the camera.
Step3. Test it again on the camera Email Settings page. You should get an alert from the camera alert message.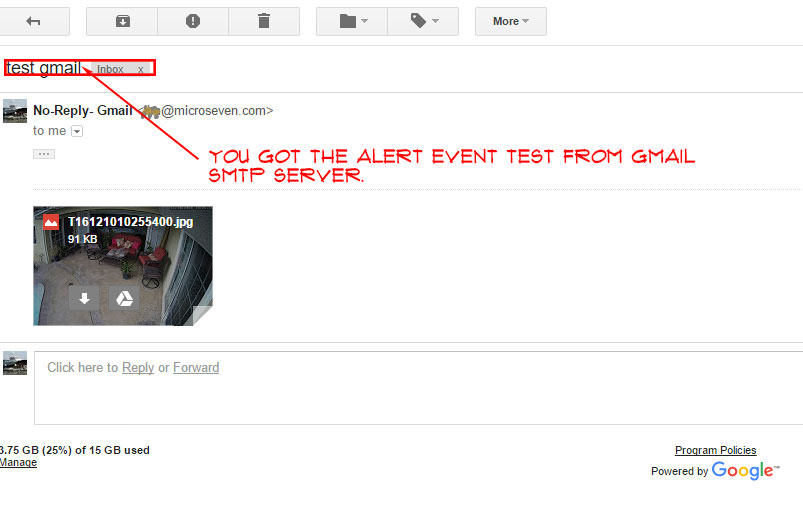 Utilize microseven camera motion alerts to receive email notifications in Gmail.
I. Access "Manage your Google Account" page.
2. Navigate the Security section and locate the option for 2-Step Verification.
3. To create a Gmail password for microseven mail settings, navigate to the App password section.
4. Please utilize the provided 16-digit App password, without any spaces, for your Microseven camera configuration.
Visit the Google page to stay updated on any new developments.
https://support.google.com/accounts/answer/185833?hl=en&sjid=9352127184276614781-NA